Review Detail
88
1
100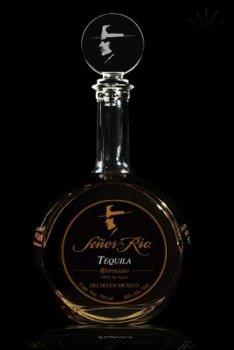 Reposados
T
Tequila.net
September 20, 2008
20591
Señor Rio Tequila Reposado
The best thing about Señor Rio Tequila in the reposado presentation - is the bottle. I love this bottle; it is rounded at the bottom with a long neck to a beautiful glass top (stopper). The top is a glass circle with the simple but elegant logo of a man's head with a wide-brimmed hat. The image is cut into the center of the stopper using a laser beam. On the shelf, this is a fantastic bottle for bar customers to look at. If tequila sales at bars are based on what the bottle looks like - this one will sell well. The stopper itself is rubber rather than cork - and this is a positive for people taking the bottle home. The price is quite reasonable so no one is going to complain about that. Let's cut to the chase.
In a Riedel glass, the color is a light caramel to copper; rather pleasant actually. Swirling the tequila exposes a thick "leggy" liquid. I would say this is not a crystal clear spirit - rather dull. Aromatics are strong with agave and citrus; the bouquet being a bit "yeasty." It assaults the nose. Mouth feel is thick and viscous. Flavor is strongly agave and I can detect virtually no "barrel" influence. This tequila has a simple, straightforward flavor that does not lend itself to sipping. Great when used in mixed drinks, especially Palomas made with real grapefruit juice!
Lingering taste is briny and rough and it does not migrate from start to finish. It is what it is. Put this bottle on your shelf for looks and drink it with your friends who have never tried it.
Comments