Review Detail
88
1
100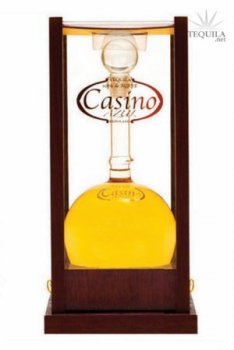 Reposados
T
Tequila.net
October 11, 2007
25393
While I mostly have fun drinking the tequila, sometimes I just have to marvel at the artwork that is done with some of these bottles. That's pretty much what you do when you see the Casino Azul bottles. A glass bird inside of a beautiful globe and stem bottle. But with 40+ brands made at NOM 1466 they have to differentiate somehow. Some distilleries have tequilas that taste similar and some are very different. For example, Meloza and Tres Mujeres come out of the same distillery and taste nothing alike so I'm not sure what to expect with Casino Azul other than that the bottle is real purty.

Price: $45-55/bottle

Aroma: A green agave with hints of pineapple. Very inviting.

Initial Taste: A nicely vegetal, but also sweet (still with fruit) agave initial entry.

Body: Moderately thin bodied. The oak flavors come forward a bit more along with some light pepper. You can tell that it's aged, but it's still pretty crisp.

Finish: A tasty combo of oak and spice with that green hint that is present throughout. It's not a long finish, but it's a pleasant one.

It's always nice when a beautiful bottle doesn't contain run of the mill garbage. This tequila has a nice crisp (and unique) profile. It's not overly sweet and delivers a nicely balanced lightly vegetal agave sipper. For the price, it's a solid value and the bottle is just a bonus. It's not life changing, but certainly worth picking up if you like the above flavors.


Comments