Review Detail
93
3
100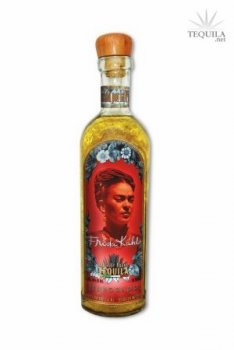 Reposados
R
Rosa
January 04, 2007
20867
Frida Kahlo Tequila Reposado
This tequila is named for one of the most notable artists that Mexico has ever produced. Her story was a sad one but she made the best of her life. She is not only famous for being an artist herself but for her marriage to Diego Rivera - probably the single most-revered Mexican artist of all time. Both Diego and Frida were devout Communists which made their lives that much more intriguing.
If you want a bottle of this tequila it will cost about $50 which ends up being a bargain. The bottle is classic; thick, hand-blown with many bubble inclusions and facets in the glass. The top is wooden with an image of Frida while the stopper is real cork. The label is merely paper with an image of Frida. When you are standing in front of this bottle in a shop, you think, "Am I buying this for the name or for the liquid inside?" The answer is - "for the tequila inside" because this is a very nice reposado expression. Actually, it is one of my favorite "reps" and I am not even a "rep" fan.
The tequila has a very, very faint tinge of straw color in a tasting glass. The nose is, for me, fantastic; sweet agave, brown sugar, vanilla and virtually no woody or smoky elements. On first swallow, there is a bit of alcohol - and, in reality, if there were not, you would probably be tasting a mixto. A little citrus comes through along with strong agave. Now there is the slightest hint of wood, but very mild; no sour elements, no pepper - just fruity and perhaps, slightly nutty (roasted almonds). The pedigree is even sweeter with less alcohol and more caramel and apricot (I think). I love the finish - worth sipping one caballito after another. No sangrita necessary but this lends itself to orange slices with spiced salt for garnish.
Long, luxurious legs drain down slowly to the surface and leave "rain spots" over the entire glass; indicative of a rich viscous liquid, but in the mouth there is no heavy coating effect on the teeth, tongue or palate. I should add a note that my bottle of Frida Kahlo Reposado has a NOM of 1079 - so, it does not come from the distillery (NOM 1465) that is now producing this product. Both are in Los Altos, however. There is a tiny amount of black residue in the liquid - something I see more and more in small batch tequilas. The logo for this tequila is printed on a paper label around the neck of the bottle. It says, "Pasion por de Vida" which means "Passion for Life" and that characterizes both Frida and the tequila named for her.

Comments