Review Detail
94
3
100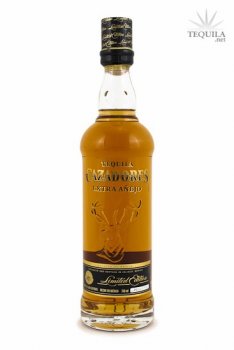 Extra Anejos
T
Tequila.net
May 02, 2012
38016
Cazadores Extra Añejo Tequila
So, I am in this well-known mega-chain wine and liquor store in New Jersey and I see this bottle on the shelf. It comes in a beautiful presentation box - and the price was right ($80). So, I bought it. I didn't even know that Cazadores made an extra añejo - so it turns out this is their first excursion into these uncharted waters. Of course, everyone is familiar with the distillery in Arandas and it has been owned by Barcardi for some time. To me, the products from Cazadores taste more like La Valle tequilas than Los Altos. This tasting was going to be interesting.
I like sweeter tequilas, so my favorites are heavily skewed toward Los Altos. Right off the bat, the price and presentation were really great. But, it's what's inside that counts. In a tasting glass, there is a dark rich copper color. The legs are thick and drain slowly to the liquid's surface. Did not notice any pearling. On the nose, there are multiple elements competing for dominance. I detected vanilla and agave with some fruity undercurrents. First taste is smooth with spicy accents - plenty of alcohol - but also quite sweet. Subsequent tastings evolve into more subtle flavors such as allspice with oak and a little smoke. Plus, it goes without saying, more vanilla.
The tequila is fairly viscous, coating the mouth completely. Upon further sipping, the flavors intensify and the alcohol level ceases to be noticeable. A little sangrita between sips and with good friends, good food and good music - a person could drink this all night. It's the best Cazadores offering I have ever tasted. But, as with most extra añejos - it's a limited edition. Get it soon or you might miss it. So - I put this tequila right in the middle - between the highlands and the valley. Aged for three years but there is very little barrel influence. It's a surprise well worth trying.
Comments