Review Detail
92
4
100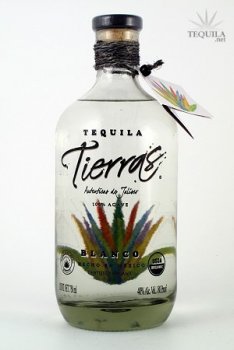 Blancos
T
Tequila.net
July 03, 2009
24139
Tierras Blanco, (organic, kosher), is a mostly Lowlands Tequila made in the town of Tequila. The organic pinas are slow cooked in stainless autoclaves for 8-9 hours, fermented with natural agave yeast, then double distilled. I would have thought cooking time to be at least 24 to 48 hours, but apparently 8-9 hours is enough for Tierras blanco to blossom. Note: For those who care, Tierras is certified kosher as well as organic. However, the kosher certification mark is only a tiny circle next to the bar code on the rear label. Perhaps Tierras did not feel it pertinent to display on the front of their bottle, as do several other Tequila distillers.

Presentation: Handsome, old type, rum style clear bottle with salt and pepper hemp-jute cord neck wrapping, black wood cap with Agave plant emblazoned on top, heat-imprint decal front label. The multicolored rear label Agave plant graphic, gives this Blanco an ever so slight yellowish/greenish cast, but it is indeed clear.

Taste: Tierras Blanco has a solid, legitimate, agave presence right from the first taste. Pleasant, medium body, mouth coating, easy to drink. Flavors: Notes of white pepper, mild sweet agave, lemon/citrus rind zest, distant vanilla. Medium burn at the end, but smoother then I expected. Taste and style are reminiscent of Chimayo and Herencia Mexicana Blanco. Tierras is a good all around Tequila citizen and excellent for a near premium blanco. Good to both sip and mix. My bottle of Tierras on special was $17.99, 3-2-13. Can't ever go wrong there. Nice value and solid quality. 91 overall.

Comments