Ley .925 Tequila Anejo
T
Tequila.net
May 16, 2007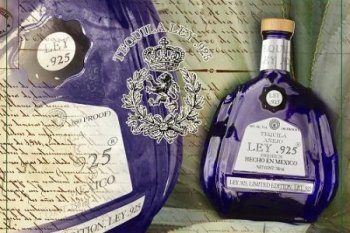 Ley .925 Anejo Tequila
Ley .925 Anejo Premium Tequila, 100%Blue Agave, aged for 3 years.
User reviews
I bought my bottle of Ley .925 anejo in Cancun on New Year's Eve, 2010. I had heard of this tequila before but never had a chance to purchase a bottle. On a whim I bought this and another rare find with the determination to ring in the New Year by sampling two tequilas new to my taste buds. Instead of going to a club (at $200 a ticket) we went back to the hotel and sat on the balcony of our room overlooking the Caribbean. What a wonderful surprise this tequila was. Very complex with many flavors competing for dominance. It was as though each sip brought out a new sensation. As always, my favorites are vanilla and caramel, but after this light introduction, there was a strong smokey finish that reminded me of Sauza Hornitos anejo. Needless to say, my girlfriend and I never got to the second bottle, but we did finish off the Ley .925 that night. After all, it was New Year's Eve and it was Linda's birthday. On my recent trip to Mexico (June, 2012), we stopped at the Hacienda la Capilla on the road to Arandas. Unfortunately, they did not offer tours, but we were able to buy another bottle at a shop in downtown Arandas. Every bottle says "Limited Edition" so I believe they have a single production once a year on this tequila. Also, the bottle seems to change a bit every year. Still, the same good taste. Not at all expensive - around $40.00 a bottle in Mexico.
Aroma: Agave & Fruit with a hint of spice and vanilla.
Initial Taste: A bit thin for an anejo, but nice flavors of agave, ripe fruits and a tough of brown spice.
Body: The oak compliments the other flavor nicely for a nice, rich flavor in a medium body anejo.
Finish: A light smoke linger to go along with the oak flavors. Decent spicy linger to go along with it.

The price was around $30 and the bottle is great looking and unique to this brand. For that price, this is a good buy.