Review Detail
94
2
100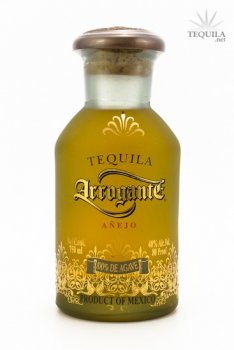 Anejos
T
Tequila.net
February 25, 2007
25753
Arrogante Tequila Añejo comes in an unusual bottle that warrants immediate attention. In particular, the bottle's mouth is wider than any I have seen. In fact, there is a pouring spout on the lip of the bottle - a first for me. So - the presentation is quite impressive - but what about the liquid inside?
In a tasting glass, the añejo expression is a rich golden copper with hints of red. Legs stick like glue to the sides of the glass - and they will "pearl" as well as drain in streamers - very unusual but not unique. Clarity is not quite crystal clear. In the nose, I detect a wide variety of things but agave and floral influences are strong with undercurrents of fruit and spices; smells like heaven, frankly - a nice strong distinctive odor. Opening the mouth, i can break down the elements a bit more precisely to include vanilla, roasted agave and brown sugar. Now, for the first taste which mirrors the nose very closely. Of course, i must add a slight alcohol burn that rapidly fades in subsequent swallows. The pedigree (or finish) is fantastic with a low burn - cinnamon, pear, apple and more brown sugar.
This tequila should cost more based on the taste so it is a real bargain. It is going to go fast on my bar. If you have time to sip this over a fairly extended period of time - say two hours - it will mellow out and you would swear you are drinking a non-alcoholic version of tequila. HA! I never said that about a tequila before. Also, the mouth feel is very creamy - almost like a liqueur. I must admit the name "Arrongante" turned me off at first, but I can see why the makers of this juice were so confident.
Comments