Review Detail
94
3
100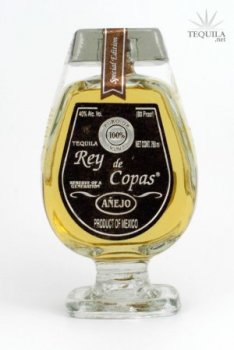 Anejos
T
Tequila.net
May 11, 2007
20590
The bottle design of Rey de Copas has had me intrigued for quite some time. I finally pulled the trigger after I found it on close out. The goblet shaped bottle with ash tray cap is unique and well thought out. I hope that the contents inside got as much effort.

Aroma: A sweet and fruity nose with agave, some light baking spice and vanilla. There's a lot going on, but it's most on the sweet side.
Initial Taste: Has a nice balance of vanilla, sweet berries and light spice. The cooked agave presence is still there as well.
Body: Medium body. The oak and spice (nutmeg & cinnamon) come through mid-palate and add nice complexity to the initial sweetness.
Finish: A nice, long linger with a combination of the sweetness and an oaky spice. It hangs around for a long duration and brings back most of flavors experienced throughout the drink.

This is a good anejo. A little change of pace from a lot of them because of the fruit filled notes of this one. The agave and spice are light, but work really well. It's pretty well priced for what it is. I'd recommend this one for experienced tequila drinkers. Well done.
Comments