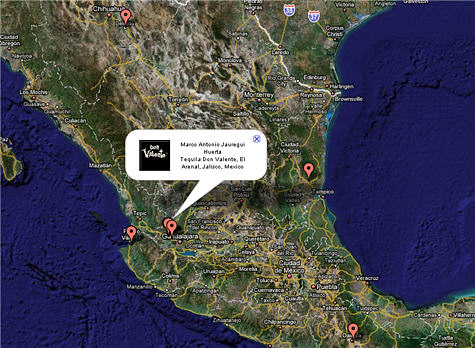 Spirits of Mexico Map - Distillery Locations
A new feature announced today for the TEQUILA.net web site, a map of Mexico displaying distillery locations for Tequila, Mezcal, and Sotol. Many distilleries shown link to their own photo gallery, showing pictures of their production process, exact address, and current brands produced.
http://distilleries.tequila.net
Agave Friendly Locations Map - Liquor Stores and Tequila Bars
TEQUILA.net has also added a map displaying Agave Friendly locations which include Liquor Stores and Restaurants / Bars worldwide that are known for their quantity, experience, and promotion of Tequila, Mezcal, and Sotol. Each location on the map is linked to their review page on Tequila.net.
These maps will always be work in progress, with new distilleries, stores, and bars added as exact locations are confirmed. Everyone can participate and help build the Spirits of Mexico maps by submitting distilleries and Agave Friendly locations not shown.
These tools are provided to TEQUILA.net members and browsers that are interested in the Spirits of Mexico, making it simple to find locations worldwide where they can enjoy Agave products when traveling.
If you would like to contribute, send an email to maps "at" tequila.net including as much of the information shown below:
Location Name:
Location Type: (Distillery, Liquor Store, Restaurant/Bar, other)
Location Address: (including city, state, zip, and country)
GPS Location: (to pinpoint the exact location, provide the latitude and longitude from a GPS)
Location Description:
Feel free to include any photos taken at the submitted location.