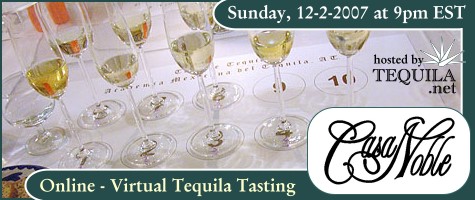 The newest feature at TEQUILA.net - Online / Virtual Tequila Tastings
TEQUILA.net members can participate in our new online tastings, currently scheduled on selected Sunday nights. This week we will be sampling Tequila Casa Noble with Jose Hermosillo (Pepe), as he talks about the La Cofradia distillery and their ultra-premium tequilas. Discuss the brand and review the lineup of Tequila Casa Noble with other members and aficionados.
Sunday night at 9pm EST
Login on the TEQUILA.net home page, and you will notice a link in the "Most Popular" menu on the left that says "Tequila Chat". Feel free to join in!