NEWPORT BEACH, Calif.- TEQUILA.net -Intersect Beverage, importer of premium Tequilas, announces the arrival of Azuñia Tequila and Regional Tequila in Colorado. On Wednesday, August 5, Intersect Beverage will celebrate the distribution of Azuñia Tequila and Regional Tequila in Colorado. The celebration will be held at Tambien Restaurant in Denver, the ideal venue to showcase Azuñia Tequila's ultra-premium flavor and Regional Tequila's uncompromised authentic quality! This will be the first introduction of Regional Tequila into the United States as presented by Intersect Beverage.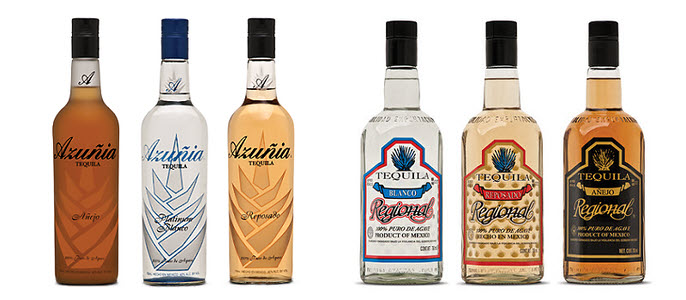 Jim Riley, Chief Executive Officer of Intersect Beverage, stated, "We are excited about the arrival of Azuñia Tequila and Regional Tequila in Colorado and have invited Darin Jones, Owner of Tequila.net, to join in our celebration. I had the pleasure of meeting Darin in Tequila, Jalisco this year and knew he and his network would be a great addition to the event as we launch Azuñia Tequila and Regional Tequila."
Intersect Beverage has secured a partnership with Republic National Distribution Company ("RNDC"), Colorado, for the distribution of Azuñia Tequila and Regional Tequila. Kirk Gaither, President of Intersect Beverage and Jim Smith, President of RNDC, have worked in the industry together for many years. "We welcome the opportunity to work with Jim and his associates at RNDC along with our local accounts to introduce Azuñia Tequila and Regional Tequila to the bartenders and consumers of Colorado, stated Gaither. We have seen RNDC grow brands in the past and we expect positive sales results in 2009. We look forward to increased sales in 2010 as we continue our partnership with RNDC while generating awareness and appreciation for both Azuñia and Regional's tequila portfolio's."
"Lukas Liquor Superstore is excited at the opportunity to be the first in the state of Colorado to offer it's customers Azuñia Tequila, the latest entry into the premium tequila market", stated Larry Merfeld, Owner of Lukas Liquor Superstore. "Colorado, specifically the Denver Metro Area, has sophisticated tequila consumers and is one of the largest tequila markets in the U.S. Having personally experienced Azuñia, I can attest to the quality that one would expect from such a product that Azuñia brings to the Colorado market."
About Intersect Beverage
Intersect Beverage, located in Newport Beach, CA, imports premium tequilas. Executives, Jim Riley and Kirk Gaither, have more than twenty years experience in the spirits industry. Intersect Beverage is committed to delivering the highest quality brands and products to every client, employing the best management and sales team in the industry involving each individual in the success of the company and its partners. Dedicated to redefining the spirits industry, having fun while delivering only the finest quality products to the market.
Intersect Beverages' products include:
Azuñia Tequila (ultra-premium tequila) produced from the finest quality hand-selected 100% Weber blue agave plants, grown and harvested by one of the oldest and most experienced growers in the Jalisco Region of Mexico. Azuñia's Tequila portfolio includes: Platinum Blanco (perfect choice for a refreshing Azuñia margarita), Reposado (an authentic pleasure with a touch of smokiness) and Añejo (the most sophisticated with hints of vanilla and nuts). Azuñia Tequila is currently distributed in California, Colorado and New Jersey.
Regional Tequila (authentic premium tequila) produced from 100% Weber Blue Agave and double distilled. Regional's portfolio includes: Blanco (unaged and pure), Reposado (smooth and medium-bodied with a true ripe agave aroma), and Añejo (bold full-bodied flavor). Regional Tequila is currently distributed in California and Colorado.
Each brand delivering a distinct flavor for all to enjoy!
To learn more about Azuñia Ultra-Premium Tequilas and to download a list of Azuñia Tequila cocktails visit www.azuniatequila.com .
To learn more about Regional Premium Tequilas visit www.regionaltequila.com .
Please Drink Responsibly
For press inquiries contact:
RCH Designs
Terra Hagel, 949.305.0566
This email address is being protected from spambots. You need JavaScript enabled to view it.
Intersect Beverage:
2801 W. Coast Highway, Suite 387, Newport Beach, CA 92663 Tel: 949-631-2246 Fax: 949-631-6130, email: This email address is being protected from spambots. You need JavaScript enabled to view it..