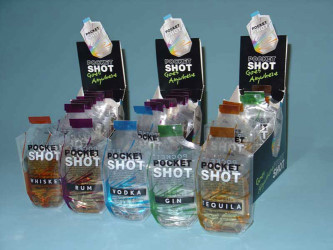 New on the GO - Single Serve Tequila Shot

San Jose, CA – Pocket Shot announced that the distribution of the unique new single serve alcohol product in a flexible stand up pouch has begun in California.

Pocket Shot is an innovative new concept that provides the consumer with "grab and go" convenient and user-friendly package for alcoholic beverages. Packaged with a distinctive shape to resemble a miniature bottle complete with bottleneck for easy pouring and a high quality sheen with bright graphics, Pocket Shot is truly the first new concept in alcohol packaging to hit shelves in North America.

Each Pocket Shot comes in a 50 ml single serve flexible stand-up pouch containing 80 proof Especial Gold Tequila Imported from Mexico, and 4 other options are available including Whiskey, Rum, Vodka, and Gin.

Pocket Shot developer Jarrold Bachmann devised the idea for the product after seeing the workers at his farm in South Africa buy simple, crude 25 ml plastic sachets of alcohol to celebrate payday.

"As someone who loves being outdoors, traveling and sports, I saw an opportunity to develop a product to fit my lifestyle and extend across all demographics from the older golfer to the Extreme Sport generation," stated Bachmann. "Looking at how market demand has exploded for single serve, 'on-the-fly' convenient and easy-to-use products, I wanted to develop something that consumers want and can use anywhere," said Bachmann.

The pouch material, which is produced in Switzerland, consists of a unique three layers that are laminated to produce an FDA-approved film for contact with the alcohol – a barrier layer for strength and one for sheen and printing the label. The pouch combines the appeal of the traditional airplane bottle with the benefits of flexible packaging – freshness, touchability, recyclability, shelf stability and "stuffability" – so the product has universal modality.

Pocket Shot is now distributed throughout California by Frank-Lin Spirits and Fine Wines of San Jose. Future development includes a line extension of products with different sizes, different spirits as well as mixed drinks in a pouch.

According to developer Bachmann, Pocket Shot is gaining momentum with retailers that recognize the immediate shelf appeal. "We're not just selling alcohol, we're providing a fun and functional way to break out of the bottle that fits with an active and on-the-go lifestyle," states Bachmann.

For more information, visit www.pocketshot.net .