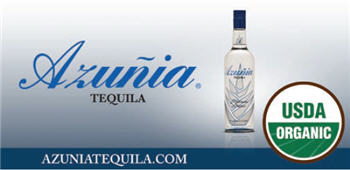 Intersect Beverage Receives USDA Organic, Bio-Agriculture
Certification for Azunia Tequila Platinum Blanco
(TEQUILA.net) – Intersect Beverage announces today that their ultra-premium tequila brand, Azuñia Tequila – Platinum Blanco, is certified "100% organic". This special certification is only provided to select distilleries that meet the production process controls and activity management requirements set by the NOP-USDA, which can be found at www.ams.usda.gov/NOP/. Azuñia Tequila – Platinum Blanco was originally granted the "organic" status back in October 2009, but Intersect Beverage has waited until now to make the public announcement of its certification.
Jim Riley, Chief Executive Officer of Intersect Beverage says, "We were happy to work with the government officials and go through this process of getting Azuñia Tequila – Platinum Blanco the organic certification because it gives Intersect Beverage's ultra-premium tequila that special place among others in the marketplace and provides tequila enthusiasts that organic seal they can recognize and equate with quality and a distinguishable, smooth taste that rises above the rest."
"This new certification is also relevant because it will provide the Intersect Beverage, Azuñia Tequila sales team with more value when going into new bars, restaurants and retailers – our desire is to make Azuñia Tequila – Platinum Blanco the most requested type of tequila among consumers," echoes Intersect Beverage's President, Kirk Gaither.
Intersect Beverage worked alongside Wirtz Beverage Group's Peter Vestinos and their team of mixologists to develop an official first organic cocktail recipe using Azuñia Tequila – Platinum Blanco.
The Jalisco Hound - Created by Peter Vestinos for Azuñia Tequila

1.5 oz Azuñia Tequila – Platinum Blanco
.75 oz Fresh Lemon Juice
.75 oz Fresh Grapefruit Juice
.75 oz Azuñia Organic Agave Nectar

Shake with ice and strain over ice in a Collins Glass. Top with Soda
Danny Wirtz, VP, Spirits Marketing & Sales says, "This certification and recipe is significant because Azuñia Tequila – Platinum Blanco will now be available in the Wirtz Beverage markets of Nevada and Illinois this month. Launch meetings and activities will take place over the week of January 11th in both states and we couldn't be more excited for this partnership and opportunity to bring one of the best tasting tequilas into our distribution circle."
ABOUT INTERSECT BEVERAGE
Intersect Beverage, located in Newport Beach, CA, imports premium tequilas. Executives, Jim Riley and Kirk Gaither, have more than twenty years experience in the spirits industry. Intersect Beverage is committed to delivering the highest quality brands and products to every client, employing the best management and sales team in the industry involving each individual in the success of the company and its partners. Dedicated to redefining the spirits industry, having fun while delivering only the finest quality products to the market.
Intersect Beverages' products include:
Azuñia Tequila (ultra-premium tequila) produced from the finest quality hand-selected 100% Weber Blue Agave plants, grown and harvested by one of the oldest and most experienced growers in the Jalisco Region of Mexico. Azuñia's Tequila portfolio includes: Platinum Blanco (perfect choice for a refreshing Azuñia margarita), Reposado (an authentic pleasure with a touch of smokiness) and Añejo (the most sophisticated with hints of vanilla and nuts). Azuñia Tequila is currently distributed in California, Colorado and New Jersey.
Regional Tequila (authentic premium tequila) produced from 100% Weber blue agave and double distilled. Regional's portfolio includes: Blanco (unaged and pure), Reposado (smooth and medium-bodied with a true ripe agave aroma), and Añejo (bold full-bodied flavor). Regional Tequila is currently distributed in California and Colorado.
Each brand delivering a distinct flavor for all to enjoy!
To learn more about Azuñia Ultra-Premium Tequilas and to download a list of Azuñia Tequila cocktails visit AzuniaTequila.com.
To learn more about Regional Premium Tequilas visit RegionalTequila.com.
ABOUT WIRTZ BEVERAGE GROUP
With more than 3,000 employees and $1.5 billion in annual sales, Wirtz Beverage Group is one of the leading alcohol beverage distributors in the country with interests in wine, spirits and beer wholesalers. Focused on technology and innovation, Wirtz Beverage Group helps deliver industry leading growth with many of the world's top luxury and premium spirit, wine and beer suppliers. The company is committed to providing customers and suppliers with a best-in-class model for continued success.
Wirtz Beverage Group is a division of Chicago-based Wirtz Corporation, having diversified interests in banking, real estate, insurance, sports and wine, beer and spirits distribution throughout the United States. Founded by Arthur Wirtz in 1926, his son William took the helm in 1983 and led the company to increased prosperity. Today, the privately-held Wirtz Corporation remains family-owned with Arthur's grandson, W. Rockwell Wirtz, leading the company as President.
In an ever-changing marketplace, Wirtz Beverage has been successful in adapting to those changes by finding innovative approaches to meeting the demands of the industry. With a clear vision towards the future, we are dedicated to the needs of our customers and suppliers; to protecting the integrity of the three-tier system; and are committed to our community mission of encouraging responsible adult consumption of our products.