LOUISVILLE, Ky. - Consumers visiting Mexico have enjoyed the taste of Antiguo Tequila, a super-premium brand from Casa Herradura. Now U.S. consumers will have the opportunity to add Antiguo to their bars north of the border.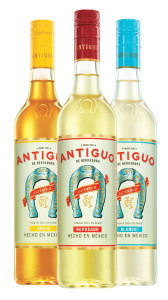 "Antiguo Tequila continues to build on its storied history from Mexico. Originally developed in 1924 and served exclusively to family and friends of the manor at Hacienda del Refugio, we are thrilled to bring this super-premium tequila to the U.S," said Mark Bacon, U.S. brand director for Casa Herradura Tequilas. "Antiguo was launched in Mexico in 1995 to commemorate Casa Herradura's 125th anniversary of producing the world's finest tequilas. True to the original formula that was kept a secret for almost a century, Antiguo has become one of the fastest growing tequila brands in Mexico."
Antiguo Tequila is an authentic, super-premium tequila crafted to be a lighter bodied, exceptionally smooth product from Casa Herradura's family of fine tequilas. Antiguo Tequila is 80 proof and has a suggested 750ml retail price of $24.99 to $29.99 depending on the expression; Blanco, Reposado and Añejo.
"These expressions are lighter in taste and color with a smoother and mellower finish, making them incredibly versatile for stylish tequila cocktails, or enjoyed neat," he said.
In celebration of the launch of Antiguo Tequila in the U.S., Tim Laird, Brown Forman's Chief Entertaining Officer, has developed a couple of signature cocktails:
Antiguo Refresco

2 oz Antiguo Blanco
1 oz Agave nectar
1 oz Water
3 peeled, cucumber slices
2 lime wedges
Muddle cucumber & lime in a shaker.
Add ice, agave nectar, water and Antiguo.
Shake to mix.
Serve in a rocks glass.
Antiguo Citrus Mint Squeeze

2 oz Antiguo Reposado
1 oz Agave nectar
1 oz Club soda
1 wedge grapefruit, cut in half
2 lime wedges
3 mint leaves
Muddle grapefruit, limes and mint leaves in a shaker.
Add ice, agave nectar, club soda and Antiguo Reposado.
Stir in mix and strain into a rocks glass.
Please enjoy our handcrafted tequila responsibly.
Alc. 40% by Vol. (80 proof) Tequila imported by Brown-Forman, Louisville, KY ©2009
Brown-Forman Corporation is a producer and marketer of fine quality beverage alcohol brands, including Jack Daniel's, Southern Comfort, Finlandia Vodka, Canadian Mist, Fetzer, Korbel, Gentleman Jack, Tequila el Jimador, Tequila Herradura, Sonoma-Cutrer, Chambord, Tuaca, Woodford Reserve, and Bonterra. For more information about Brown-Forman and our brands, please visit our website at www.brown-forman.com.
Source: EarthTimes.org