(San Bartolo Farms, Phoenix, Ariz.) – 3 Amigos Blanco Tequila earned its organic certification in the United States and the European Union, making it one of the world's first tequilas to achieve the distinction.
3 Amigos Blanco Tequila is at the forefront of a movement that continues to gain momentum. The Nutrition Business Journal reported in 2006 that the U.S. organic market was a $13.8-billion industry. It also estimated that organic food sales would rise to $23.8 billion by 2010. With its earth-friendly product, 3 Amigos allows consumers to make a healthy choice and still indulge in savory tequila.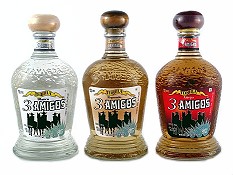 Quality is the signature of the Gonzalez family, which has been planting, nurturing and harvesting its own Weber Blue Agaves for more than four generations in Jalisco, Mexico. Their rich experience has cultivated practices that naturally lend themselves to organic farming.
The 3 Amigos Blanco Tequila agaves are nourished with the positive bio-organisms that help release the nutrients readily available in the soil. Biological pest management keeps the crops healthy and free of synthetic chemicals and hormones.
These farming methods earned 3 Amigos Tequila its organic certification in March from the USDA and the EU (European Union.) The result is double-distilled tequila of the finest quality that embodies the natural flavors and aromas of the agave that gratify the senses.
"We have always been proud of our handcrafted tequila," said Santiago Gonzalez, founder and owner of 3 Amigos Tequila. He lives in Litchfield Park and farms 5,000 acres of land in El Mirage. "We take just as much pride in the land that God has bestowed upon our family. We take to heart the responsibility of being the best trustees we can for the soil in which we work."
The Gonzalez family grows superior agave that produces the most exquisite tequilas on the market. What makes them different? Simply: They never sacrifice quality for quantity. They consistently deliver a superior product that is incomparable and best of all, affordable.
3 Amigos Tequila, a family-owned distillery located the Los Altos region of Jalisco, produces a family of three tequilas: Their signature Blanco Tequila is double-distilled and absorbs the savory taste and aroma of ripe agave. The lightly-aged Reposado Tequila rests in white oak for 11 months. The Anejo Tequila ages in charred white oak barrels for two years until it achieves a perfect balance of flavor, color and aroma.
Whichever flavor of tequila you prefer, the Gonzalez family is certain you will enjoy 3 Amigos Tequila and taste the difference that quality makes in every step of its production.
3 Amigos Tequila is distributed by Hensley & Company in Arizona. The line of fine tequilas is also available in Idaho, Illinois, California and Texas. Coming Soon to Florida and New York. For more information, visit www.3amigostequila.com
Contact:
Ramon Gonzalez (623) 536-3201