Review Detail
88
3
100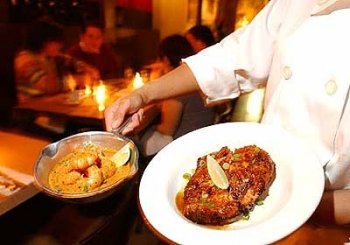 United States
T
tvJefe
September 04, 2007
15341
Date of review: Friday, 8/31/07, 9pm

Malo is located in the very hip, very trendy, somewhat pretentious Silverlake. The patrons ranged from tattooed mommies and daddies to male rockers in women's jeans to Gina Davis (she was at the next table over).

The wait was long, even with a reservation. But to compensate, they gave us a complimentary flight of salsas. The Habernero & Cream salsa was amazing.

The food was great. I tried the beef and pickle tacos. My wife had the shrimp diablo; and we split a cheese quesadilla. My wife had to say about the shrimp: "It was really good and really spicy. I liked it." It was a very nice meal: filling and well-priced.

Their tequila selection is above average. 150 from the description sounds about right. A good variety - from inexpensive to the super premiums. For price calibration, I always use Herradura Seleccion Suprema which was $59 here. This is certainly higher than I am used to seeing. Don Julio 1942 was $26. So you are looking at about a 450-550% mark-up. (300-400% is about average in my experience) But Silverlake is an expensive neighborhood to set-up shop in, I'm sure.

I had the chance to talk with Mateo, the manager? owner? He was great. He brought out some samples - most notably a 1921 Tequila Crema which was a BIG hit at the table.

Overall, I had a great time at Malo. My only negative would be the price (of tequila, not food). But as I said before, this is in a very trendy, up-and-coming neighborhood of Los Angeles and I'm sure the rent is high. I would certainly recommend Malo to this community.
Comments