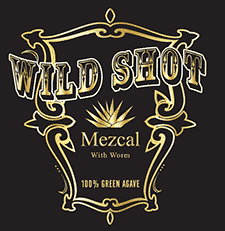 Toby Keith's love affair with mezcal began when he first crossed the Texas border into Mexico, and met his first worm in the bottom of a bottle. Now Toby is introducing his own brand of mezcal, Wild Shot, throughout the U.S.
"I remember going across the border when I first started playing around Brownsville [Texas] and Las Cruces [New Mexico]," Toby tells The Boot. "When I crossed into those border towns of Laredo and Juarez, and walked into that first cantina, it was just fascinating to me."
While it was a new experience for Toby, he was familiar with the concept. "You remember in the movie 'Urban Cowboy,' when Scott Glenn's character turned that bottle up and put his tongue in it and let the worm fall down and then got the worm out of there?" Toby continues. "That was very authentic Texas border stuff that went on. Outside of the border states you wouldn't have seen much mezcal."
The question still remains: why now? "There has been a surge in the mezcal market," Toby explains. "It's easy to get another tequila but not many people are doing anything with mezcal. I saw the success my friend Sammy Hagar has had with Cabo Wabo, so instead of being a competitor in the tequila market, I wanted to do as I always do, and get in on the ground floor where there is a lot of room for growth."
Of course, in order to find the best mezcal to brand for his companies, Toby had to drink a few glasses and down a few worms. Yes, worms. You can't have authentic mezcal without that worm in the bottom of the bottle!
"Oh yeah, you don't want to miss out on that," Toby grins. "You don't want to be the last guy holding the bottle either. They say the worm causes visions, but I think it's just reaching the bottom of bottle. If you're there when that happens I don't think the worm has that much to do with it."
The worm, by the way, is the larval form of the Hypopta agavis moth, which lives on the green agave plant, from which mezcal is made. Mezcal is made from the green agave plant, which is native to Mexico. The smokey flavor is distinctive to mezcal over tequila, and is one of Toby's favorite things about the liquor.
"I was the kind of person, if I was gonna sip alcohol I was that whiskey guy, I like that barrel flavor," Toby explains. "Tequila was not a sipping thing to me, but with mezcal having that smokey flavor, I liked that. Plus the worm thing gives it authenticity to what people think of as old school tequila. I like to chill mine and sip on it like you do whiskey, but you can also mix it in margaritas. Everyone whose tried this one so far likes it."
Toby's mezcal will be used in all house margaritas in his chain of restaurants, Toby Keith's I Love This Bar and Grill. He says Sammy Hagar will also sell it in his restaurant, just as Toby sells the rock star's Cabo Wabo tequila.
"I have a lot of friends who have bars," Toby explains. "You get a pretty good launch just in night clubs and being able to control house margaritas at my place. The thing you want to do is get the case count up, and we've got a little advantage over anybody else that would be starting a new brand because of the restaurants. You don't have to drink a house margarita at my restaurant, but if you do, it will be made with Wild Shot. I do the same thing do with my barbecue sauce. I brought one out of Oklahoma and put it in all my places. We've only been open six months in Minneapolis, but we've already won barbecue sauce of the year."
While Toby hasn't written a song about the mezcal or the effect it has on him, he says that probably will happen at some point down the road. "When I write, whatever is going on in my world that day is what I'm writing about," he says. "So if I'm absorbing Wild Shot I'm sure something about it will go into a song."
Within the next couple months, two more Bar and Grills will open, one in Boston and one in Rancho Cucomonga, Calif. More restaurants are planned for Chicago, Dallas, Pittsburgh and Cincinnati.
Wild Shot, which is 86.6 proof, will be imported by Shaw-Ross, a leading importer and marketer of fine wines and spirits. It should be available in most markets by the end of May.
Source: theboot.com
Watch for it!
http://www.wildshot.com