An Appellation of Origin sets standards for certain products that producers have to meet in order to make products called by certain names. Products are defined based on a geographic area, where the product must meet specified standards and be culturally related. Rules are set for where the product is grown, how it processed, and how it is presented. Additional councils for products monitor the production to ensure quality and authenticity.
In 1978, the "Appellation of Origin Tequila" was registered before the World Industrial Property Organization (WIPO), officially initiating its international protection. For a product to be labeled "Tequila", it must be produced in the declared territory (shown below) of Mexico, and the producer must follow the Official Standard for Tequila, known as NOM-006-SCFI-2005.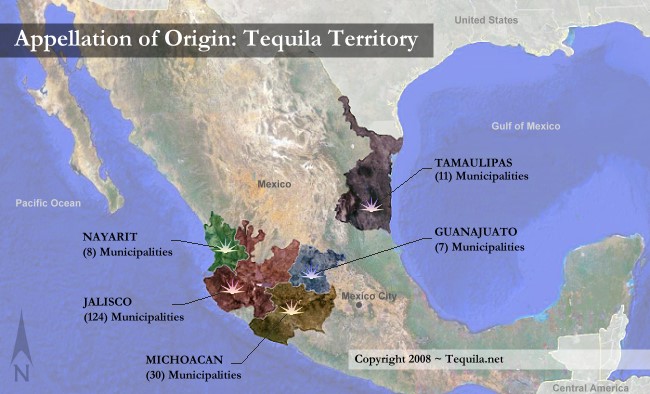 The Appellation of Origin: Tequila Territory consists of approximately 11 million hectares, or 27 million acres.
The entire protected Mexico territory includes 180 municipalities in five states.
Jalisco:
All of Jalisco, 124 municipalities.
Nayarit:
8 municipalities: Ahuacatlán, Amatlán de Cañas, Ixtlán del Río, Jala, Xalisco, San Pedro Lagunillas, Santa María del Oro and Tepic.
Guanajuato:
7 municipalities: Abasolo, Cd. Manuel Doblado, Cuerámaro, Huanimaro, Pénjamo, Purísima del Rincón and Romita.
Michoacan:
30 municipalities: Briseñas de Matamoros, Chavinda, Chilchota, Churintzio, Cotija, Ecuandureo, Jacona, Jiquilpan, Maravatío, Marcos Castellanos, Nuevo Parangaricutiro, Numarán, Pajacuarán, Peribán, La Piedad, Régules, Los Reyes, Sahuayo, Tancítaro, Tangamandapio, Tangancicuaro, Tanhuato, Tinguindín, Tocumbo, Venustiano Carranza, Villa Mar, Vista Hermosa, Yurécuaro, Zamora, and Zináparo.
Tamaulipas:
11 municipalities: Aldama, Altamira, Antiguo Morelos, Gómez Farías, González, Llera, Mante, Nuevo Morelos, Ocampo, Tula and Xicotencatl.