Anejos
Don Weber Tequila Anejo
Don Weber Tequila Anejo
http://www.tequila.net/media/reviews/photos/thumbnail/350x350s/62/27/88/1927_don-weber-tequila-anejo_1348200337.jpg
Hot
Submitted by Tequila.net September 20, 2012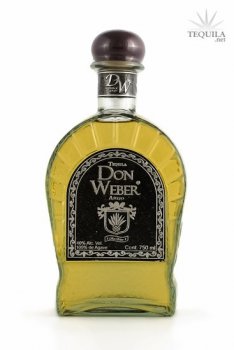 Tequila Review
Facebook Page

Follow Don Weber
Twitter Page

Tweet Don Weber
Tasting Awards
2012 TEQUILA.net Awards - "Best of the Best" Best Highland Añejo Tequila Judge Favorite
Tequila Don Weber Añejo
Don Weber Añejo is 100% Blue Agave Tequila produced at Feliciano Vivanco y Asociados in the Highlands of Jalisco, Mexico. Don Weber Añejo is aged for 18 months in white oak barrels.
Tequila Don Weber is a small Mexican owned company which focuses in the production, sales and exportation of Premium 100% Natural Blue Agave Tequila. Their products are made from pure, natural Tequilana Weber Blue Agave, slow cooked, double distilled, and presented in handcrafted artisanal bottles.
Photo by TEQUILA.net
User reviews
There are no user reviews for this listing.