Papatzul
http://www.tequila.net/media/reviews/photos/thumbnail/350x350s/51/a5/8e/1356_2papatzul_1265853528.jpg
Hot
Submitted by PAPATZUL February 10, 2010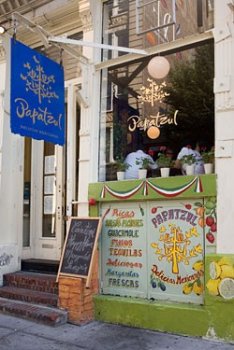 Papatzul
Papatzul blends the culinary refinement of Mexico City's ritzy Polanco district with the colorful, sunny charm of the artsy Coyoacan district. Black iron tree-shaped candelabras are mounted on the back room's white brick wall under a sparkly skylight. In the front bar area, Mexican masks hang on a saffron background above a red leather banquette. Behind the bar, dozens of tequilas, including high-end artisanal labels, are given the pedestal treatment they deserve. Those not ready to sip their agave straight can enjoy a long list of margaritas on the rocks, including the fuchsia Flor de Jamaica, made with sweet hibiscus juice.
Chef Thierry Amezcua, a Mexico City native, got his start in New York in the kitchens of Il Buco and Savoy. The training shows in his elegant preparations of Mexican market-inspired dishes: Tender duck enchiladas come enrobed in an almond-based black mole, garnished with squiggles of crema, and sprinkled with toasted almonds; buttery steamed coins of sliced octopus wade in a smoky, mildly spicy chipotle tomato sauce, accompanied by a green fan of sliced avocado. For a contemporary rendition of one of the world's most soulful cuisines in an exuberant setting, you can't beat the experience.
User reviews
There are no user reviews for this listing.