El Reformador Tequila Reposado
http://www.tequila.net/media/reviews/photos/thumbnail/350x350s/dd/6e/fc/1043_el-reformador-tequila-reposado_1275801572.jpg
Hot
Submitted by Tequila.net November 09, 2008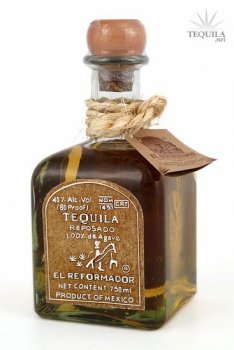 Tequila El Reformador Reposado
El Reformador Tequila recaptures the traditional craftmanship in producing Tequila using tools and processes similar to those used in the 18th century, creating a Tequila which is fragrant, complex and extremely smooth.
El Reformador Tequila Reposado is created from the finest 100% Blue Weber Agave, naturally fermented, aged in oak casks, and has no chemicals added.
Photos by Tequila.net
User reviews
There are no user reviews for this listing.