El Caudillo Tequila Reposado
http://www.tequila.net/media/reviews/photos/thumbnail/350x350s/a8/db/17/693_el_caudillo_tequila_reposado_1190316451.jpg
Hot
Submitted by Tequila.net September 20, 2007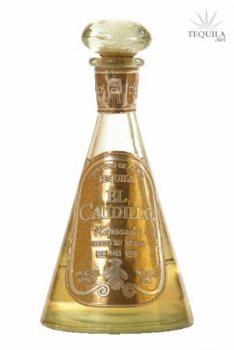 Tequila El Caudillo Reposado
With the distillery located in the native town of Magdalena, El Caudillo is produced and bottled by Corporativa Tequilera la Magdalena S.C. de R.L. The name Magdalena is Xochitepec, which means "the place next to the hill of flowers." It is among these flowers that the finest quality Agave plants are grown and harvested for this deluxe Tequila.
El Caudillo's select Tequila is double distilled then carefully aged in white oak barrels previously used for maturing bourbon, imparting a complex golden color and "oaky" flavor, before being bottled.

User reviews
There are no user reviews for this listing.