Esperanto Tequila Blanco
http://www.tequila.net/media/reviews/photos/thumbnail/350x350s/73/e8/42/826_tequila_esperanto_blanco_1204754566.jpg
Hot
Submitted by Tequila.net March 05, 2008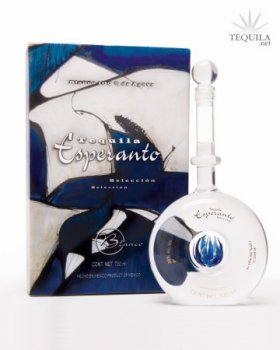 Tequila Esperanto Blanco
Tequila Esperanto Blanco is elaborated with great dedication and under strict quality procedures, in one of the oldest and traditional distilleries of Tequila, Jalisco well-known as "El Llano".

We carefully select the blue agave, "Tequilana Weber", and after cooking we initiate the extraction of the nectar, and then our Tequila is submitted under a process of triple distillation.
Esperanto Tequila Blanco is triple distilled and full of Agave flavor, extremely smooth on the palate.
The design of the case is hand crafted by the reknown mexican artist Genaro Pimientel.
User reviews
There are no user reviews for this listing.