Reposados
Tonala Tequila Reposado Especial Reserva
Tonala Tequila Reposado Especial Reserva
http://www.tequila.net/media/reviews/photos/thumbnail/350x350s/01/78/7b/163_tonala_reposado_tequila_1171227450.jpg
Hot
Submitted by Tequila.net February 11, 2007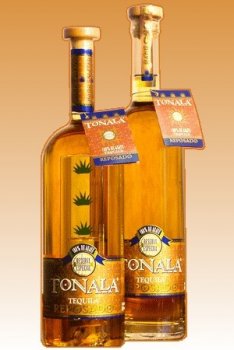 Tonala Reposado Especial Reserva Tequila
Tonala 100% Agave Reposado Especial Reserva Tequila

Tonala Reposado Suprema  is a very fine 100% de Agave Reposado tequila.  Its brilliant golden color and excellent balance of agave and wood makes Tonala Reposado Suprema something special . Our tequila is aged just less then 1 year in several types of white oak barrels. These unique barrels impart more tannins and color, creating a well structured Reposado Tequila.

Tonala Reposado Suprema is quite different from all other 100% agave Reposado Tequilas. It exhibits the same complex subtleties as many of the world's finest spirits and demands the same loyalty and passion as a fine wine. It will stimulate great conversation.

Tonala Reposado Suprema is available in 2 -750ml packages, one with hand blown glass and 2 hand blown shot glasses encased within the bottle, making it the perfect gift or package for anyone's bar.
User reviews
There are no user reviews for this listing.