Man in Black Tequila Reposado
http://www.tequila.net/media/reviews/photos/thumbnail/350x350s/64/03/3d/1936_man-in-black-tequila-reposado_1349055334.jpg
Hot
Submitted by Tequila.net September 30, 2012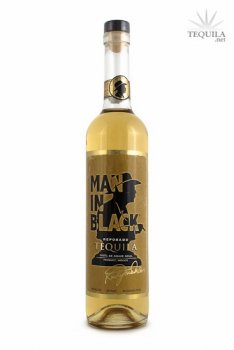 Man in Black Tequila Reposado
Man in Black Tequila Reposado is 100% Blue Agave which rests in American oak for up to one year. The real Man in Black doesn't need no stinkin' Hawaiian shirt. Sure he can tie a cherry stem in a knot just using his tongue; but why would he? Palladin, Cash, Batman, Dracula. Reposado is the brand for the tequila man that knows the difference between a single-filtered high-elevation nurtured Mexican spirit gently rested in American White Oak casks and the crap with a beach-ball on the label. The Lone Ranger was a wimp.
This is not just another celebrity endorsed, multi-million dollar brand in a fancy bottle. It is traditional, grassroots, and damn good. Richard S. "Kinky" Friedman (born November 1, 1944) is an American Texas Country singer, songwriter, novelist, humorist, politician and former columnist for Texas Monthly who styles himself in the mold of popular American satirists Will Rogers and Mark Twain.
Throughout history... in legend, folklore, and song, there has stood this lone, solitary  figure of strength, independence and courage. The man in black.  This tequila is a tribute to men like Paladin, Zorro and Johnny Cash who wore the dark attire that cloaked them in mystery... he may have been a hero or a scoundrel, but all who encountered him knew that he was a force to be dealt with. He was The Man in Black.
Photo by TEQUILA.net
User reviews
There are no user reviews for this listing.