Blancos
Espiritu del Viento Tequila Blanco
Espiritu del Viento Tequila Blanco
http://www.tequila.net/media/reviews/photos/thumbnail/350x350s/9e/e4/45/espiritu-del-viento-tequila-blanco-33-1446942407.jpg
Hot
Submitted by Tequila.net November 07, 2015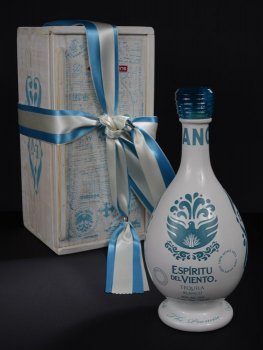 Espiritu del Viento Tequila Blanco - The Promise
Espíritu Del Viento Tequila Blanco - The Promise, is a premium 100% Agave Tequila produced in the Highlands of Jalisco, Mexico.
Espiritu Del Viento (translated: Spirit of The Wind) comes in an artisanal, hand decorated ceramic bottle that takes 27 hours to complete. The bottle is packaged in a sanded, handcrafted wooden piece of art.
User reviews
There are no user reviews for this listing.