Don Tepo Tequila Blanco
http://www.tequila.net/media/reviews/photos/thumbnail/350x350s/cc/1c/9d/575_don_tepo_blanco_tequila_1183694963.jpg
Hot
Submitted by Tequila.net July 05, 2007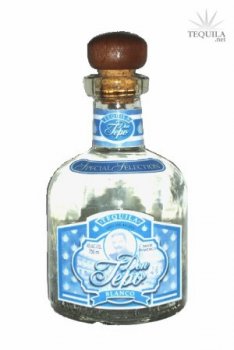 Tequila Don Tepo Blanco
Don Tepo Blanco Tequila is made in the finest tradition of tequila craftsmen, and is a representation of our tequila in its purest form.  It features a powerful aroma with a hint of spice and a clean and clear crystalline color.

Our Blanco spirit hits the palate with a strong earthy character, but still maintains a smooth and pleasant feel on the tongue. Then it finishes with a bright and warm sensation and a light citrus twist.  Our Blanco is perfect for any mixed cocktail, and a great straight-up for the purest tequila experience.
Don Tepo Tequila is a truly magnificent representation of traditional hand-made Tequilas. As a true artisanal Tequila, Don Tepo is hand processed from beginning to end, including the hand blown bottles and hand cut corks, by a company of two families with over 31 years of Tequila production. The distiller is located in Jalisco, Mexico, the heart of the Tequila tradition and the location of the best tequilana blue agave weber in the World.
User reviews
There are no user reviews for this listing.