Don Tepo Tequila Anejo
http://www.tequila.net/media/reviews/photos/thumbnail/350x350s/53/aa/8d/573_don_tepo_anejo_tequila_1183694193.jpg
Hot
Submitted by Tequila.net July 05, 2007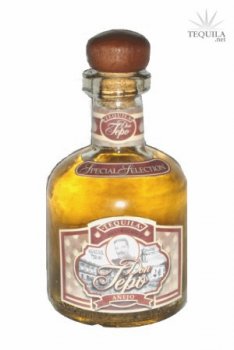 Tequila Don Tepo Anejo
Don Tepo Añejo Tequila is the maximum expression of tequila, using only the finest agaves, methods, and personnel.  It begins with our unmatched Blanco and is then aged for sixteen months in special charred white wood barrels, specially made for tequila.  It carries a beautiful floral and earthy aroma, and a deep golden amber color.

Our Anejo is a full-bodied experience of spice and citrus that is smooth and clean from start to finish.  It should be savored through slow sipping, straight-up, in a snifter.
Don Tepo Tequila is a truly magnificent representation of traditional hand-made Tequilas. As a true artisanal Tequila, Don Tepo is hand processed from beginning to end, including the hand blown bottles and hand cut corks, by a company of two families with over 31 years of Tequila production. The distiller is located in Jalisco, Mexico, the heart of the Tequila tradition and the location of the best tequilana blue agave weber in the World.
User reviews
There are no user reviews for this listing.