Clase Azul Ultra Extra Anejo Tequila - Coming May 2007
Submitted by Tequila.net April 10, 2007
18019
0
0
0
0
Hot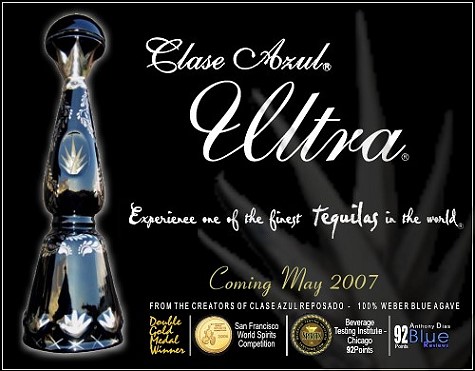 Clase Azul "ULTRA" is the latest offering from Mr. Arturo Lomeli, the Award winning Master Distiller of Clase Azul Reposado® and La Pinta Pomegranate Infused Tequila®. Clase Azul ULTRA is an Extra Anejo Tequila produced in the Arandas region of Jalisco, Mexico that will garner a retail price of approximately $1,700 in the U.S. This limited production Tequila represents a collaboration of excellence in producing the "Best of the Best" of Mexico: the best Tequila presented in a stunning, hand-crafted decanter. Only 100 bottles will be produced and available in MX and the U.S. markets.


The decanter is made from ultra-fine, hand-made ceramic and stored in a fine wooden case that is hand-made by the awarded artisan Fernando Tanaka

This first edition is limited to 100 bottles, 50 for Mexico, and 50 for the United States. Estimated price is $1,200 USD in Mexico, and $1,700 USD in the United States.

Aged patiently for a minimum of three years in hand-selected, ultra-fine sherry oak barrels.

Each decanter contains a pure Silver "LEY .925" Agave Medallion which is hand-made and signed by the renowned Mexican Artist Leon Fernandez

The decanter label is applied with 24K Gold

Each decanter is hand painted with pure Platinum by the Mexican Artist Tomas Saldivar

The amount of time to produce each spectacular bottle of Clase Azul Ultra is approximately 40 days

Social Commitment - One third of the profits from the sale of Clase Azul Ultra will be donated to charities in various communities of Jalisco, MX

For more information visit www.TequilaUltra.com and www.TequilasPremium.com
User comments
There are no user comments for this listing.