Submitted by Tequila.net October 07, 2012
5814
0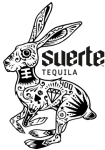 Suerte Tequila - Luck is Here!
Boulder, CO — Suerte Tequila debuts with their trio of 100% pure Blue Weber Agave Tequilas. The Suerte line has been carefully handcrafted to appeal to today's modern Tequila drinker while maintaining a high level of authenticity. Suerte Blanco, Reposado and Anejo are now in full production in the highlands of Jalisco Mexico where Suerte's Master Distiller uses traditional methods such as slow cooking in an Horno (brick oven), gradual fermentation and the use of a Tahona to create a truly unique tequila experience.
Boulder based entrepreneurs, Laurence Spiewak and Lance Sokol co-founded and built their new brand out of a strong desire to offer consumers a progressive yet authentic tequila. What makes this tequila different? Suerte Tequila is small batch, single estate; double distilled and is packaged in a bottle decorated with a one of a kind hand drawn rabbit logo. Infused with pure spring water and the finest agave, all three varieties have an incredibly smooth finish and pleasant, unique flavors.