Latest
Patrón Tequila: Handcrafted, Simply Perfect
Patrón Tequila: Handcrafted, Simply Perfect
Submitted by Tequila.net February 03, 2007
21158
0
0
0
0
Hot
Patrón Tequila: Handcrafted, Simply Perfect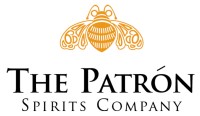 LAS VEGAS - It's no accident that Patrón has become the world's top-selling ultra premium
tequila. Every step in producing this fine spirit - from harvesting the Weber
Blue agave in the highlands of Jalisco, Mexico, to the centuries-old distillation process, to
the individual labeling, packaging, signing and inspection of each bottle - is done with
the careful precision and care that can be accomplished only by hand.
It starts with the agave. Patrón's characteristic smoothness and layers of flavor
stem from using the finest Weber Blue agave that grows in the rich volcanic soils in the
hillsides of this region. These agave plants, which take an average of eight years to
mature and develop the right sugar levels needed to produce Patrón, are hand
cultivated in the fields by skilled workers called "jimadors" and then transported to
Patrón's distillery, Hacienda del Patrón, in the small town of Atotonilco.
After arriving at the distillery, the hearts of the agave plant, called pinas, are
loaded by hand into small masonry ovens. This time-honored method of cooking
agave (a process not found in most modern industrial tequila distilleries) slow-roasts
small batches for 72 hours. When the sweet, rich agave emerges from the ovens it is
macerated using a technique that includes the centuries-old Tahona process, a large
stone wheel that slowly crushes the shredded agave. From there, the juice is fermented
in pine wood casks where Patrón's expert distillers personally monitor the sight, smell
and temperatures of the soon-to-be tequila. After fermentation, hand-made copper pot
stills take over the next step, distillation. In this process, the tequila is twice distilled, fine
filtered and balanced to produce the final product.

The entire process is overseen through the watchful eye of Patrón's master
distiller, Francisco Alcaraz, who personally tastes each batch, rejecting those that don't
meet Patrón's exact standards.
"Our passion for excellence and perfection guides everything we do," says
Alcaraz. "Our process is unique and time-consuming, unlike that of any other tequila in
Mexico. It's what makes Patrón one of the highest-quality spirits in the world."
Patrón's careful attention to detail and high level of craftsmanship carry through
into the bottling and packaging room as well. Over 60 hands touch and inspect each
bottle as it moves from person to person, each labeling, numbering, and wrapping the
bottles. A piece of art unto themselves, bottles with even the slightest imperfection are
taken off the production line immediately, and despite the volume of bottles now
produced, a worker still polishes each bottle while another hand-ties a ribbon around its
neck.
Every drop in every bottle of Patrón sold around the world is produced and
packaged in this scenic village in Mexico. The Patrón portfolio includes:

Gran Patrón Platinum (80 proof)
Gran Patrón Platinum starts with hand selecting the most exceptional agave
plants from the harvest, meticulously removing any leftover sprouts to eliminate any
bitterness before baking. This ultra-smooth silver tequila is triple distilled, aged for a
limited time, and then blended to create the finest sipping tequila in the world. The
handmade Gran Patrón Platinum etched crystal bottle comes in a handcrafted maple
wood box.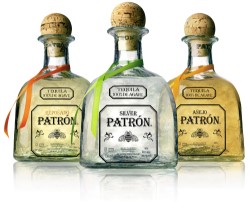 Patrón Silver (80 proof)
Patrón Silver is a crystal clear, pure ultra-premium tequila. This soft and light
tequila is characterized by a fresh, smooth taste, without the flavor of oak. Delicious
neat or on the rocks, Patrón Silver is also a perfect ingredient in a mixed cocktail or
margarita.

Patrón Añejo (80 proof)
Patrón Añejo is a delicate blend of uniquely aged tequilas, all aged in small white
oak barrels for a minimum of 12 months. Similar to winemaking, each vintage of
Patrón Añejo is carefully blended to produce a smooth and distinctive-tasting tequila.

Patrón Reposado (80 proof)
Aged in oak barrels for an average of six months, Patrón Reposado is blended to
combine the fresh clean taste of Patrón Silver with a hint of the oak flavor found in
Patrón Añejo. Excellent as a sipping tequila, Patrón Reposado is also a key ingredient in
an ultra-premium margarita or tequila cocktail.

Patrón XO Café (70 proof)
Patrón XO Café is an extraordinary blend of ultra-premium tequila and the pure,
natural essence of fine coffee. The taste is dry, not sweet as with most low-proof coffee
liqueurs. Patrón XO Café is excellent for sipping, as a cocktail ingredient or as a unique
and delicious dessert topping.

Patrón Citrónge (80 proof)
Patrón Citrónge is a premium reserve, extra fine orange liqueur. With no
artificial flavors or chemical enhancers, Patrón Citrónge is excellent enjoyed straight, in
a cocktail or a gourmet cooking recipe. Also, together with Patrón tequila, it's the
perfect ingredient for an authentic margarita.

Patrón is imported and marketed by the Las Vegas-based Patrón Spirits
Company. The company's portfolio also includes the Pyrat line of fine Caribbean rums
(Pyrat Pistol, Pyrat XO Reserve and Pyrat Cask 1623). For more information about
Patrón, please visit www.patronspirits.com.

Contact:
Greg Cohen
The Richards Group
1-214-891-3544
This email address is being protected from spambots. You need JavaScript enabled to view it.

User comments
There are no user comments for this listing.