Submitted by Tequila.net March 18, 2013
4242
0
Submitted by Tequila.net February 22, 2013
4552
1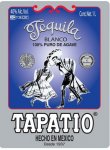 Tequila aficionados, especially those who have made the trek to Mexico's legendary Altena Distillery, will be pleased to learn that the full collection (Blanco, Anejo and Reposado) of Master Distiller Carlos Camarena's 75-year old brand, Tapatio, is now available in the United States for the first time.
Submitted by Tequila.net December 11, 2012
5189
0

Celebrate the new moon with an old friend. Luna Nueva Tequila is coming soon to a location near you. With a list of accolades and awards, Luna Nueva Tequila is actively looking to expand its distribution into new and exciting markets.
Armed with a list of prestigious spirit awards, reviews, and eager consumer demand, Luna Nueva Tequila is ready to expand its distribution. In the words of Robert Plotkin, mixology and spirits expert, "Since ancient times, the new moon has come to be a symbol of rebirth and new beginnings. It's not surprising that this new luxurious tequila should adopt as its name Luna Nueva, or 'new moon.' It embodies what aficionados and enthusiasts adore about boutique tequilas: It is a romantic spirit graced with style, class, and abundance of character."