Oro de Oaxaca Mezcal Wins Gold and Best Agave Spirits Award
Submitted by Tequila.net July 01, 2009
17543
0
0
0
0
Hot
Caballeros Inc., importers of Mezcals de Oaxaca is proud to announce ORO DE OAXACA MEZCAL Gold Medal award and the brand winner for BEST OF AGAVE SPIRITS category announced last week at the prestigious 2009 Los Angeles International Wine & Spirits Competition.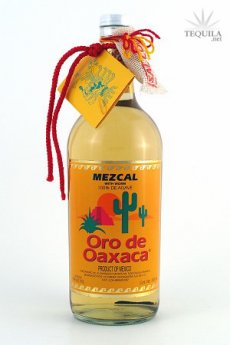 Oro de Oaxaca Mezcal is one of the best known brands of Mezcal in the state of Oaxaca Mexico. It is a certified 100% agave Mezcal Joven with natural caramel coloring, bottled with an agave worm in the bottle and a bag of agave worm salt attached to the bottle. The agave worm adds flavoring to the beverage and is considered a delicacy in Oaxaca. The worm salt is a mixture of roasted ground agave worms mixed with chili and salt and is used as a rimming salt or Mezcal salt with lime. This competition was the first entry into any competition in the US for Oro de Oaxaca Mezcal and it won over a number of Agave spirits brands submitted (tequilas and mezcals).
The LA International Wine & Spirits Competition, celebrated its 70th year in 2009. Nine judges sampled wines and spirits from around the globe. This is the second year that the Mezcal category has been included in the competition.
Media Contact:
Barbara Sweetman
Sweetman Communications
Tel: 914-921-6988
Fax: 914-967-2538
Email: This email address is being protected from spambots. You need JavaScript enabled to view it.
About Caballeros Inc.:
Caballeros Inc. is the exclusive importer for many brands of award winning Mezcals from the State of Oaxaca, Mexico. All of the Mezcals are 100% Agave, Certified with Domination of Origin status. Brands include: Scorpion Mezcals, Maria Mezcals de Agave, Oro de Oaxaca Mezcal, Don Juan Escobar Mezcal.
http://www.scorpionmezcal.com
User comments
There are no user comments for this listing.