Ilegal Mezcal, Cowboys and an Englishman
Submitted by Tequila.net September 17, 2012
5007
0
0
0
0
Hot
Ilegal Mezcal Rocks Austin Texas
Austin, Texas - Mezcal has been the love of bartenders and mixologists alike on both the East and West Coast for the last couple of years. Right now it is exploding onto a new stage in the music capital of the world, Austin Texas. This smoking, bad girl agave spirit has found a home with the fun loving, drinking and rocking population of Austin Texas.
One mezcal of particular note is Ilegal Mezcal, a handcrafted mezcal that is easy sipping or great in cocktails. Ilegal Mezcal was launched in Austin last September and it used to only be available in a few bars, most notably in the seductive, candlelit, Bar Ilegal at the back of Clive Bar on Rainy Street. For close to a year this was the sole mecca to mezcal in Austin.
But now fortune has shined its barroom light on mezcal aficionados and Ilegal Mezcal seems to be available in many corners of the city --if you know where to look. On the Eastside it's now being poured at the White Horse, The Volstead, Hotel Vegas, Papitino's, Takoba and The Violet Crown. A musician at the White Horse, put it this way, "I love mezcal, and things always taste a little better when they are Ilegal."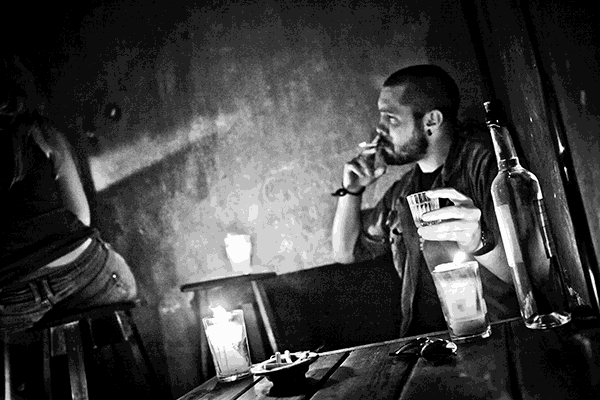 Photo by Aram Dulgarian
Ilegal has also spread throughout Rainy and can be found in Bar 96, El Naranjo, Blackheart and Javelina.
"I just spent the last two months in Austin and was ecstatic to find the number of bars that carried my favorite mezcal," says Shaun Fagan, a wry and scruffy Englishman with a cigarette in the corner of his mouth and a shot glass in his hand. Fagan has worked in Oaxaca, Mexico in a small mezcal factory and at the original Ilegal Mezcal Bar in Antigua Guatemala. "I was also excited to find that many Austinites are in the know and have an appreciation for mezcal. Maybe it's the proximity to the border or maybe it's just Austin, if you know what I mean."
When asked about what attracts people to mezcal, Fagan replied, "I first was introduced to Ilegal Mezcal in a bar full of travelers and musicians when I was on the road in Guatemala, then later in Oaxaca, Mexico. Once I tasted it, I said goodbye to whiskey and hello mezcal. Music, mezcal, travel, and a little madness…they all go pretty well together. Maybe that's why Ilegal is lighting up in Austin. And, oh, did I mention, the stuff just tastes damn good."
Please Drink Responsibly
View all Ilegal Mezcal products
Contact:
Kaylan Rexer
631-645-6355
This email address is being protected from spambots. You need JavaScript enabled to view it.
User comments
There are no user comments for this listing.