At TEQUILA.net we take Agave cocktails seriously, mixing drinks that actually enhance your favorite Tequilas. Unfortunately the majority of restaurants and bars serving margaritas drown out the natural flavors of the Agave with Triple Sec, Cointreau, and sugar filled mixes. By following this simple margarita recipe, you'll find that the Tequila will control and enhance the flavor of your cocktail, by combining your preferred 100% Tequila with natural and fresh ingredients.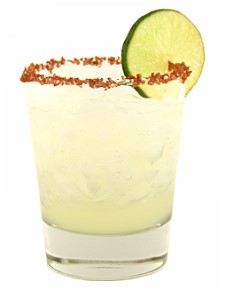 PURO MARGARITA
With only 3 main ingredients, this all natural margarita is so simple to create, and once you've perfected this cocktail it will be hard to return to any pre-mixed product.

Preparation
Ingredients: Tequila 100% Agave, Agave Nectar, Limes, Ice, Salt (optional)
Recommended Tools: Lime squeezer, cocktail shaker

Tequila: 1.5 oz
Agave Nectar: 2 tsp.
Fresh Squeezed Lime Juice: 1 oz (approx. 1/2 lime)


Mix contents, swirl or stir to dissolve Agave nectar, add enough ice to fill your preferred margarita glass, shake and serve. Garnish with lime wheel or wedge, salt glass rim (optional).
Selecting the Tequila:
This is determined by the amount you want to spend, but there are many 100% Agave products on the market starting around $15.00 for a 750ml bottle of blanco Tequila. We use blanco and reposado Tequilas in our margaritas as a standard, and depending on the mixed ingredients, an Añejo makes a nice addition at an increased cost. Sample different brands and types to change the flavor of your margaritas.

Selecting the Agave Nectar:
Agave nectar is quite easy to find now, most local grocery and health food stores carry at least one brand. Several Tequila brands have added Agave nectar to their portfolio as well. Some brands are certified organic, and some brands offer a light, medium, dark, and extra dark profile, which provide different levels of richness and flavor. Flavored nectars are available and can put a whole new twist on your cocktails. Agave Nectar is at least 30% sweeter than sugar, has less calories, and is lower on the Glycemic Index. It is the perfect compliment in Tequila cocktails.
Selecting the Limes:
Ripe, thin skinned limes work best when squeezing into a margarita, and depending on how tart and sweet your limes are, you may need to adjust the measurement of Agave Nectar to find that perfect balance. Keep several barspoons or straws close by to sample your mix before serving.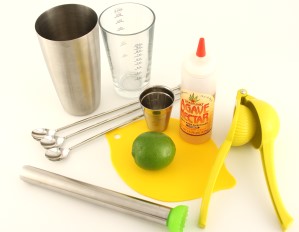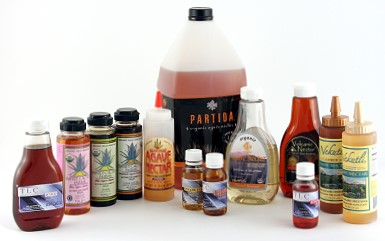 By using the above recipe as a base you can easily create flavored margaritas by muddling several pieces of fresh product with the contents. Try muddling some of these fruits, vegetables, and herbs individually or combine to create your favorite: jalapeños, cilantro, mint, ginger, cinnamon, cucumber, berries, grapes, peaches, melons, lemons, oranges, etc. You can use flavored and colored salts as well to alter the appearance and flavor of your concoctions.

The options for your cocktails are limited only by your imagination.

~~~~~

Special thanks goes out to the following brands of Agave Nectar for providing samples for TEQUILA.net cocktails and tastings:
TLC Ingredients Inc. - TLCingredients.com
Mahava - MadhavaHoney.com
Partida - PartidaTequilaStore.com
4 Copas - 4Copas.com
Nekutli - AgaveNectar.com
Sweet Cactus Farms - SweetCactusFarms.com
Volcanic Nectar - VolcanicNectar.com

Here are several other TEQUILA.net favorite cocktails:
PALOMA
1.5oz Tequila Blanco or Reposado
1/2 Glass Grapefruit Juice (fresh)
1/2 Glass Squirt or Fresca
Fill highball cocktail glass with ice, add Tequila, Grapefruit Juice and Squirt, stir and serve. Rim glass with salt or sugar if desired.
TEQUILA MOJITO
1.5oz Tequila Blanco
8 Fresh Mint Leaves
2 tsp. Agave Nectar
1/4 Lime
Sparkling Water or Club Soda
Muddle Mint, Agave Nectar, and Lime, fill highball cocktail glass with ice, add Tequila and top off with sparkling water. Stir and serve.
HERRADURA TEQUILA SPA
1.5oz Herradura Tequila Blanco
5 Seedless Red Grapes
2 Lime Wedges
1 Lemon Wedge
1.5 tsp. Agave Nectar
2 Slices of Cucumber or Kiwi (garnish)
Muddle all contents, add ice, shake, and pour into a short cocktail or margarita glass. Garnish with 2 slices of cucumber or kiwi.