Mision Imperial Tequila Reposado
http://www.tequila.net/media/reviews/photos/thumbnail/350x350s/19/56/4e/1100_mision_imperial_tequila_reposado_1234140119.jpg
Hot
Submitted by Tequila.net February 08, 2009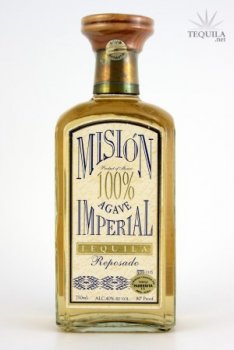 Mision Imperial Tequila Reposado
Mision Imperial Tequila Reposado is a full bodied, mellow, premium 100% aged Agave Tequila. This premium Tequila is specially crafted in Jalisco, Mexico by master distillers dedicated to providing the finest Tequila possible.
After a careful distillation process, and aging in oak barrels, only the best Tequila produced is selected for the Mision Imperial label. 
User reviews
There are no user reviews for this listing.