El Capo Tequila Reposado
http://www.tequila.net/media/reviews/photos/thumbnail/350x350s/7f/8f/39/1967_el-capo-tequila-reposado_1352846411.jpg
Hot
Submitted by Tequila.net November 13, 2012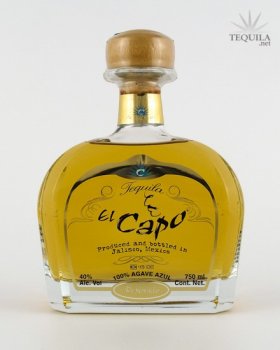 El Capo Tequila Reposado
Tequila El Capo Reposado is 100% Agave from the Highlands of Jalisco. El Capo Reposado rests in American oak for 2 years, and exhibits a beautiful golden color. Scents of cinnamon and berries in the bouquet are joined with white chocolate, soft vanilla, and more berries on the palate.
Tequila El Capo is associated to one of the most fruitful and traditional distilleries in Mexico, Tequilera Newton. From its beginnings in 1941, El Capo Tequila was one of the great creations distilled from carefully selected Blue Agave using manual distillation and aging processes.
Tequilera Newton founder, Enrique Guillermo Newton Alexanderson, and his family worked arduously for decades to perfect the quality of this great tequila.
Photo by TEQUILA.net
User reviews
There are no user reviews for this listing.