Don Cardona Tequila Reposado
http://www.tequila.net/media/reviews/photos/thumbnail/350x350s/f5/c8/ea/1112_don_cardona_tequila_reposado_1234645398.jpg
Hot
Submitted by Tequila.net February 14, 2009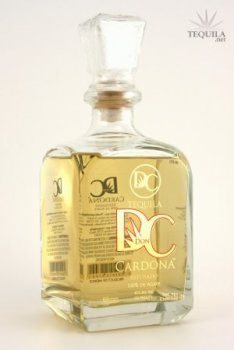 Tequila Don Cardona Reposado
Tequila Don Cardona Reposado is produced with the highest quality 100% Agave, and aged for eleven months in oak casks.
The Cardona Family dynasty is to be triumphant and successful in everyday life,  always remembering their heritage. Tequila Don Cardona is created for the entire world to enjoy, a unique Tequila produced by the most knowledgeable in the industry.
The simple and elegant bottle contains a shot glass stopper.
User reviews
There are no user reviews for this listing.