Revolucion Tequila Extra Anejo
http://www.tequila.net/media/reviews/photos/thumbnail/350x350s/9c/16/0f/1350_revolucion-tequila-extra-anejo_1265602770.jpg
Hot
Submitted by Tequila.net February 07, 2010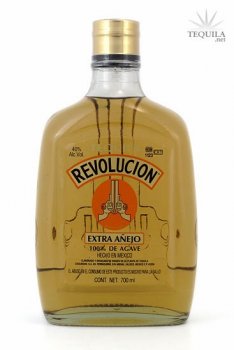 Tequila Revolucion Extra Añejo
Tequila Revolucion Extra Añejo is 100% Blue Agave, distilled twice, and aged in 10 year old oak barrels for a minimum of three years.
The back of the bottle showcases two pistols pointing up, with 1.5oz measured markings to insure the perfect pour each time.
Photo by Tequila.net
User reviews
There are no user reviews for this listing.