Mejor Tequila Pink
http://www.tequila.net/media/reviews/photos/thumbnail/350x350s/fd/b0/64/1032_mejor_tequila_pink_1226377051.jpg
Hot
Submitted by Tequila.net October 20, 2008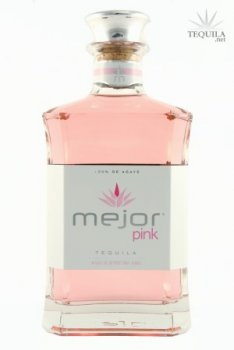 Mejor Pink Tequila
Mejor Pink is a chic presentation of Mejor's fabulous Blanco Tequila. Made from hand-selected 100% Blue Agave, Pink is dressed up with a vibrant hue and stylish contemporary packaging to exude a sophistication that complements the ultra-smooth superior quality of Mejor's Tequila. Pink is chic modern luxury.
Mejor's tequilas are micro-batch produced at the exclusive direction of Mejor's Master Distiller, Engr. Marco Cedano, who was the Sr. Directing Distiller for Don Julio. All our products are 100% Blue Agave, and the agave is hand selected from our estate, located in los Altos de Jalisco (between Arandas and Atotonilco el alto).
User reviews
There are no user reviews for this listing.