Grand Mayan Tequila Silver
http://www.tequila.net/media/reviews/photos/thumbnail/350x350s/0d/5c/40/1977_grand-mayan-tequila-silver_1353200890.jpg
Hot
Submitted by Tequila.net November 17, 2012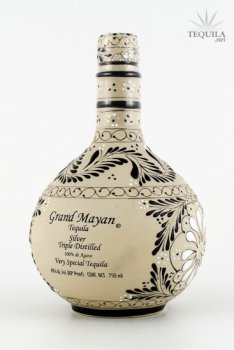 Grand Mayan Tequila Silver
Grand Mayan 3D Silver Tequila is 100% Blue Agave produced at Corporativo Destileria Santa Lucia. Made from the best, hand-picked Agave, and distilled 3 times, Grand Mayan is a favorite among Tequila connoisseurs and mixes flawlessly into any cocktail.
Grand Mayan Tequila is bottled in beautiful handcrafted ceramic decanters painted by Mexican artists, representing Mexico's ancient history and deepest traditions.
Photo by TEQUILA.net
User reviews
There are no user reviews for this listing.