Blancos
Don Azul Tequila Platinum Blanco
Don Azul Tequila Platinum Blanco
http://www.tequila.net/media/reviews/photos/thumbnail/350x350s/6b/14/b0/don-azul-tequila-platinum-blanco-14-1386473818.jpg
Hot
Submitted by Tequila.net December 07, 2013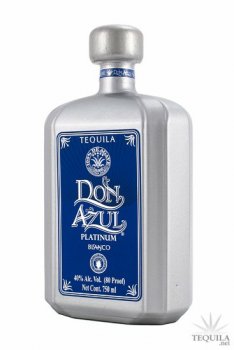 Tequila Don Azul Platinum Blanco
Tequila Don Azul Platinum Blanco is 100% Agave produced at Tequila Selecto de Amatitán in Jalisco, Mexico. Grace and delicacy highlight this exquisite Tequila, its extraordinary bouquet and marvelous aftertaste takes Don Azul Platinum Blanco beyond excellence and sophistication. A must for all true Tequila connoisseurs.
Produced from estate grown Weber Blue Agave, Don Azul Tequila is triple distilled and triple filtered to provide a pure, crystal clear and smooth Agave spirit of exceptional quality.
Photo by TEQUILA.net
User reviews
There are no user reviews for this listing.