Anejos
Gran Centenario Reserva del Tequilero Tequila Anejo
Gran Centenario Reserva del Tequilero Tequila Anejo
http://www.tequila.net/media/reviews/photos/thumbnail/350x350s/f5/25/53/434_gran_centenario_reserva_del_tequilero_tequila_1178945407.jpg
Hot
Submitted by Tequila.net May 11, 2007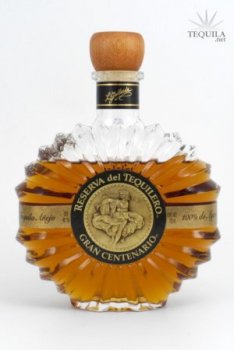 Gran Centenario Reserva del Tequilero Anejo Tequila
Gran Centenario Reserva del Tequilero Anejo Tequila - 100% Blue Weber Agave aged in French oak barrels for over two years.
The newer version of this product has the same bottle but a different name and label. Gran Centenario Leyenda is now an Extra Añejo product which can be found at the link below.
User reviews
There are no user reviews for this listing.