Anejos
El Charro Tequila Gran Reserva Anejo
El Charro Tequila Gran Reserva Anejo
http://www.tequila.net/media/reviews/photos/thumbnail/350x350s/2e/3f/ec/81_el_charro_anejo_gran_reserva_1168477371.jpg
Hot
Submitted by Tequila.net January 10, 2007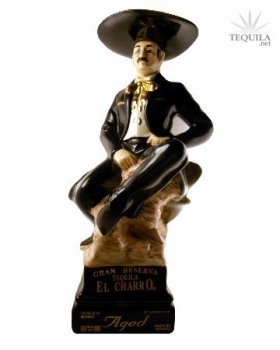 Tequila El Charro Gran Reserva Anejo
El Charro Gran Reserva Anejo Tequila is a hand-crafted decanter that represents the magnificent image of the Mexican Gentleman Cowboy, called Charro in Spanish. This figure of El Charro comes with a set of six horse-shaped shot glasses. The reserve Tequila it contains is also a masterpiece.
It is a grand reserve Tequila crafted from 100% Blue Agave and rested in oak barrels for a period of 15 months. This unique piece is for the true Tequila connoisseur and the enthusiastic collector.
User reviews
There are no user reviews for this listing.