Viva Taqueria & Cantina
http://www.tequila.net/media/reviews/photos/thumbnail/350x350s/87/cf/19/1196_vivataqueriacantina_1245692353.jpg
Hot
Submitted by WhatsonTap99 June 11, 2009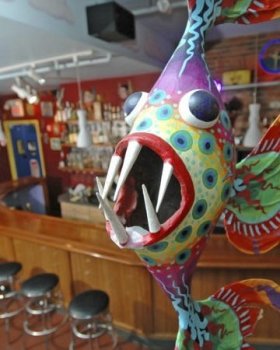 Viva Taqueria & Cantina
Founded in 1995, Viva Taqueria brings to Ithaca a California-style taqueria -- a place to get fast, healthy, delicious Mexican food at inexpensive prices.
We make our food daily from the finest available ingredients and we pride ourselves on the quality and freshness of our food.
Viva Cantina, a full service restaurant located next door to the Taqueria, offers margaritas made with fresh lime juice, a huge selection of premium tequilas, Mexican and local beers, and fresh sangria. Items from the Cantina menu are also available for takeout in the Taqueria.
Viva Taqueria & Cantina serves approximately 75 selections of Tequila and Mezcal.
User reviews
There are no user reviews for this listing.