Mi Casa Mexican Restaurant & Bar
http://www.tequila.net/media/reviews/photos/thumbnail/350x350s/1a/66/aa/1619_mi-casa-tequila-bar_1306517103.jpg
Hot
Submitted by nbishop May 25, 2011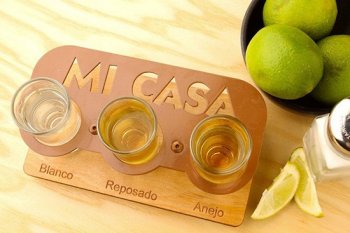 Mi Casa Mexican Restaurant & Bar
Mi Casa is a story of family; of multi-generations dedicated to good food and festive times. Since 1972, Mi Casa has been serving the best tacos, enchiladas and margaritas this side of the border. Mi Casa is a place to enjoy special celebrations with family or friends or a spot to simply blow off steam after a long workday and enjoy an ice cold beer or margarita.
Mi Casa is a casual 'come as you are' family restaurant and is famous for its high-quality food, generous portions, family atmosphere and traditional Sonora-style recipes − all offered at an affordable price. The theme is very warm and rustic. The dining room is filled with accents of red brick, weathered chairs, iron details, wagon wheel chandeliers, silk plants, candlelight and old retro memorabilia as a celebration of Mi Casa's heritage. The bar area features 35+ tequilas, draft beer, flat-screen televisions featuring various sports, neon beer signs, weathered reclaimed dark barn wood and light ash table tops mixed with a stainless-steel and glass salsa bar to add a modern contrast to the overall look.
Come experience OC's favorite Mexican food restaurant and see why this is known as a "local spot".
User reviews
There are no user reviews for this listing.