El Jimador New Mix Spicy Mango Margarita
http://www.tequila.net/media/reviews/photos/thumbnail/350x350s/fd/f4/29/1437_el-jimador-new-mix-spicy-mango-margarita_1276226637.jpg
Hot
Submitted by Tequila.net June 10, 2010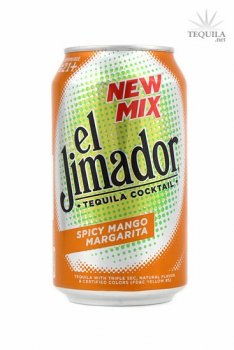 El Jimador New Mix Spicy Mango Margarita - Tequila Cocktail
El Jimador New Mix Spicy Mango Margarita contains El Jimador Tequila, Triple Sec, and natural flavors. This Tequila Cocktail is Ready-to-Drink and is a refreshing alternative to beer and malt beverages.
Available in single serve and four packs, 5% Alc. Vol.
Photo by Tequila.net
User reviews
There are no user reviews for this listing.